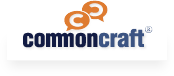 Common Craft
is a website that I've
written about before
and used more times that I can remember to help students understand a difficult academic topic. Yesterday, I received an e-mail from them with information about a new video they posted on their site as well as a bunch of new resources they have posted to the
Common Craft
site. These new resources are aimed at assisting in the creation of your own explanation videos.
This got me thinking about our computer teachers in Seymour and teachers in general. Wouldn't it be cool to create our own explanation videos like the ones created by Lee and his wife? To get started, this
short video
explaining the tools and tips should point you in the right direction. Also on the site are some
"know how" resources
(some paid/some free) which offer ideas on how you can create really great videos of your own.
Now What?
Explanation videos like the ones found on
Common Craft
are effective and to the point. Students and teachers can create and use these videos to explain anything from math theories to ecosystems. If you are interested in the videos but don't have the time to create them...check out their
library of videos
and find one to fit you classroom.